A Stent For Kidney Stones Is a Less Invasive Option
Using a stent for kidney stones is a less invasive option than traditional surgery. It offers a quick recovery time and lowers the risk of complications. The stent is used to help flush out the kidney stones, reduce pain and prevent swelling. In addition, the stent can be removed with a simple in-office procedure.
A ureter stent is a tube that is threaded into the ureter, the tube that drains urine from the kidney. It is about 10 to 15 inches long and is less than a quarter inch thick. It is usually placed during ureteroscopy, a surgical procedure for kidney stones.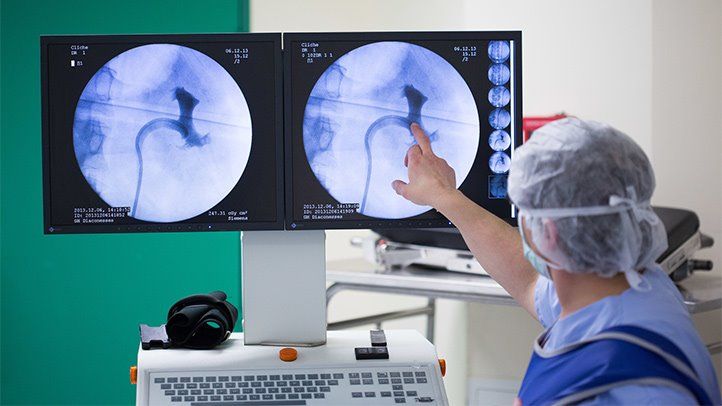 The stent is typically placed under general anesthesia. The stent is attached to the kidney using a guide wire. The stent is then inserted through the cystoscope, a thin metal tube that has a camera. The cystoscope allows the doctor to see the ureter and bladder. The surgeon can use this procedure to see whether or not the ureter is obstructed and remove the stone. The cystoscope can also be used for Lithotripsy, a type of sound wave therapy, which breaks up stones.
Ureter stents can also be used to reduce the risk of infection after surgery. The stent provides a smooth passage for urine to travel from the kidney to the bladder. The stent prevents post-operative swelling from obstructing the urine flow. In addition, the stent is temporary, allowing the ureter to heal. The stent is removed at a follow-up visit. The stent is then removed using a grasper, a procedure that is less traumatic than surgery.
In addition to the ureter stent, the doctor may also place a nephrostomy tube. This tube is placed through the skin of the back and into the kidney. It is designed to divert urine away from the hole until it closes. The tube also allows urine to drain into a bag. The nephrostomy tube is prone to infection, however.
A kidney stone stent can be placed with a local anesthetic or a general anesthetic. The stent is usually placed under ultrasound guidance to make sure that it is placed in the correct position. It can be removed at a follow-up visit, but some patients may require an overnight hospital stay.
Depending on your specific condition, your physician will determine the length of time that your stent should be in place. Typically, small stones are placed for less than two weeks. In some cases, a stent can be placed emergently. If a stent is placed for the treatment of medium to large stones, it can be kept in place for only a couple of weeks.
Some patients may feel discomfort in their groin or penis, although this is not common. However, if the pain is significant, the patient should notify their physician. If there is fever, or there are clots in the urine, the patient should also notify their physician. They may need to take pain medicine and consider eating a high-fiber diet. Some patients will also experience urinary urgency, which is when you feel the need to urinate more often than usual. The pain may also be felt in the bladder area, although it is less common than in the groin. The patient should also drink plenty of water after surgery.
Will you be prescribed Profert pills?
To provide accurate and up-to-date information about Profert I recommend the following steps:
Consult a Healthcare Professional: If you are considering using Profert or have been prescribed this medication, it's crucial to consult a healthcare professional, such as a doctor or gynecologist. They can provide personalized advice based on your specific health needs and concerns.
Check with Local Pharmacies or Health Authorities: If Profert is available in your region, local pharmacies or health authorities may have information about its uses, ingredients, dosage, and potential side effects.
Search Reliable Online Sources: Look for reputable medical websites or official sources related to healthcare for any information available on Profert
Always remember to be cautious and verify information from multiple reliable sources before using any medication or supplement. The information provided here is general and not a substitute for professional medical advice.